About Us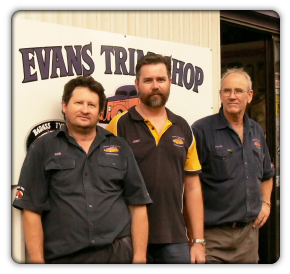 The Main component of our company is Motor Trimming.
Our Mission: To provide our customers with a quality service and excellent value. Evan's Trim Shop has a long history of supplying the Toowoomba community with its automotive upholstery requirements having traded in Toowoomba for over 44 years.
George Boulos started George's Trim Shop, located in Donation Lane Toowoomba, in 1968. The business then changed ownership and name in 1985, when purchased by Evan Kuhrt. Peter and Jan Twidale took over in 1993 combining their reproduction door trim business, Replica Door Trims and during their tenure started selling Rare Spares. They changed location to 18 Mann Street, Toowoomba in 2001.
The current proprietor, Chris Anscombe, has run Evan's Trim Shop since 2003 and has recently added Badass Tyre Red/white walling to the services we provide.